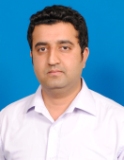 Department of Electrical Engineering
Ext: 147
Mr. Maqsood Muhammad Khan
Assistant Professor
Introduction
Engr. Maqsood Muhammad Khan received his bachlours degree in Computer Systems
Engineering from University of Engineering & Technology, Peshawar Pakistan.
He completed his M.Sc. in Electrical Engineering with emphasis on Telecommunications
Engineering from Blekinge Institute of Technology Sweden. Currently he is doing his PhD
in Electrical Engineering from National Univesity of Computer & Emerging Sciences,
Peshawar Campus.
His research interests include information reconciliation, channel modeling & coding,
and soft decoding for Quantum Key Distribution (QKD).
Education
M.Sc(Electrical Engineering), Blekings Institute of Technology, Sweden (2010)
B.S(System Engineering), UET, Peshawar, Pakistan (2008)