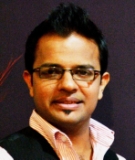 FAST School of Management
Ext: 163
Mr. Sarfraz Kiyani
Assistant Professor
Introduction
Mr. Sarfraz Ali Kiyani is an Assistant Professor at Fast School of Business, Islamabad as well as Managing Director and co-founder at Deventions, an Event Management & Public Relations Company. Sarfraz holds a Masters Degree (MBA) with bi-majors in Marketing and Finance from NUST Business School (2005). He is teaching Entrepreneurship and Strategic Marketing courses to MBA, BBA and Computer Science students. Before joining FAST School of Management in 2011, he had 6 years of industry experience spread over 2 organizations; having worked with Mobilink as Specialist Strategic Planning & Business Development and with Bridge factor pvt ltd as a management consultant for clients such as Fauji Foundation, Telenor, Saif Group etc.
Training Projects Conducted
Conducted a two day workshop on 'Entrepreneurial Behavior in SMEs' in an International Conference in Zanjan, Iran.
Invited as a guest speaker in Entrepreneurship Conference in Ondokuz Mayis University, Turkey.
Presented d Participated in a 'Technology Entrepreneurship Workshop' organized by British Council at IBA Karachi.
Carrying out recurring seminars and workshops on 'Entrepreneurship' all across Pakistan. The audience include; graduating students from universities, emerging entrepreneurs and small business owners. It includes topics like; Entrepreneurial mindset, business idea & creating opportunity, starting a new venture and entrepreneurial strategy.
Organized 7 workshops on 'Event Management' in Islamabad and Lahore. The three day extensive workshop contains PR, Fundraisers, Public-Events & Corporate Event Planning modules. Participants learn; techniques of public relations and fundraising, event marketing, making budgets, time and stress management etc.
Conducted a training session in FAST University on 'Sales Management'. Audience included Executive MBA Students working in Pharmaceuticals and Corporate employees from English Biscuits, Pakistan Tobacco and NADRA. The workshop modules included sales planning, conflict resolution, effective communication and selling skills.
Education
MBA(Marketing & Finance), Nust Business School, Pakistan (2005)
BBA(Finance & Investment), NUST Business School, Pakistan (2004)